I want to start this off with an amazing blog post reference from my classmate Tyler Efrain Ramos He is a pioneer because he was the first one to do the final reflection. He has an image of his favorite Pokémon in his reflection post.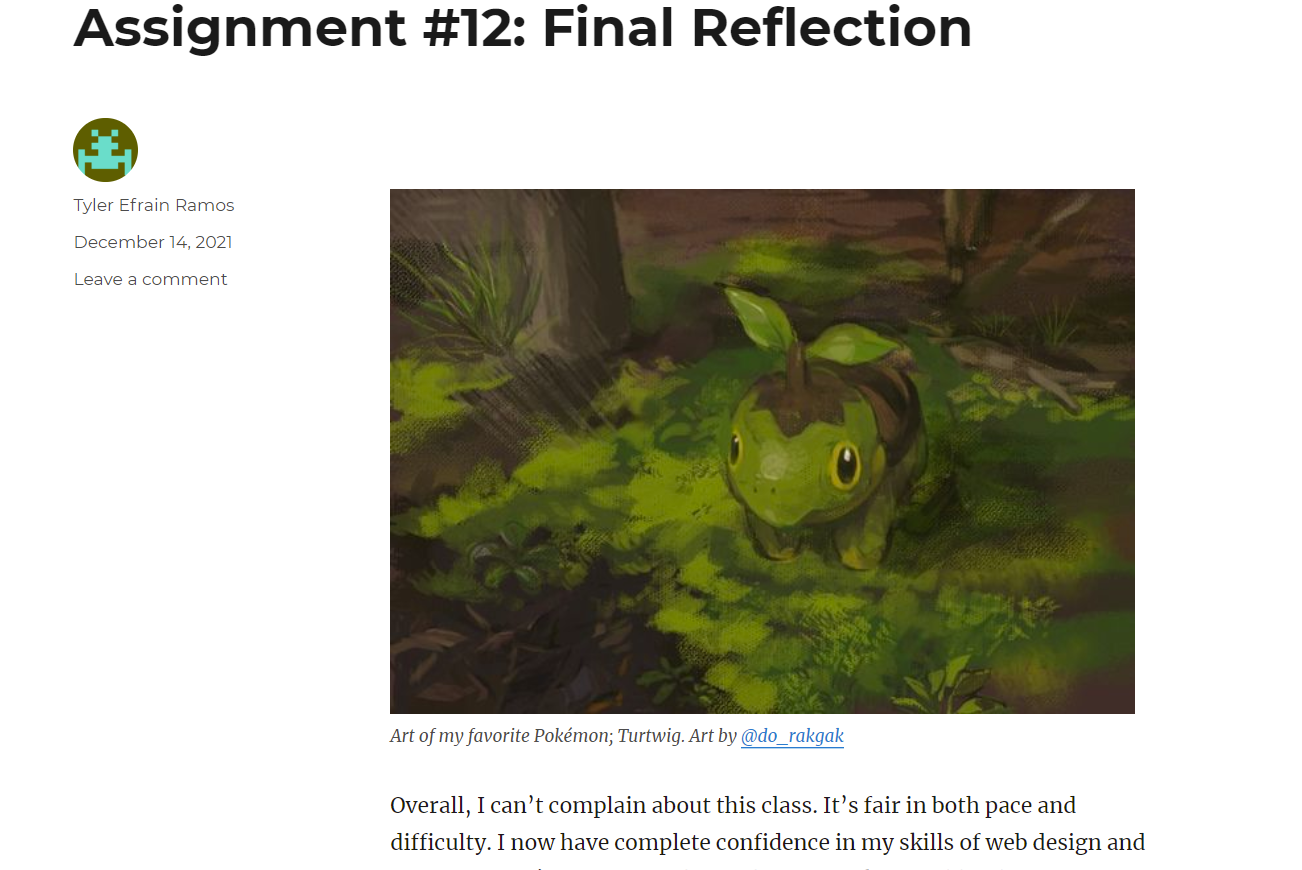 And I think I speak for everybody when I say we are all Pokémon in this class because we have evolved into a better version of ourselves. And I say this because now I take all this knowledge I learn from this class and apply outside it. I think that's the greatest skill I take away from this class. I was talking to one of my professor Larry, yesterday actually about how CT have impacted my life and this class really show me that.
I mean the last line from the other paragraph literally. Likewise, I took like 3 CT classes this semester. I don't know why I did it, now that I look back, next semester is my final one, and I'm done with all my CS classes which is my major (computer science). And I was just looking for classes with writing intensive class. So I found CT 201 from Professor Larry and choose it. Then I loved the feel of that class and looked for another class in CT and I pick CT 160 because I wanted to learn design since I'll become an App Developer soon and wanted the necessary skill.
Here's a fun story of how I decide this class, I actually was not supposed to be in this class. I was supposed to be part of an art class. So glad I changed last minute my decision and all it took was to have ONE class with Prof. Stephen Kwok. After the introduction class I immediatly rush into York College website and look for the CT minor requirement. I did not have a minor until that point but I knew I wanted this as my minor. And I know this was not an impulsive decision, I fall in love with media back when I studied in BMCC. I took a class with Prof. Ira Epstein and it made me rethink my major, was I meant to do computer science or multimedia is what I love? Luckily talking to him I looked at my problem differently. I can do both things because they actually connect. I have always look programing as a tool, anybody can make a program, is like a hammer and chisel to make an structure. All you need to know how it works but if you don't have that creative side you won't be able to find solutions to a problem. Here is a public lecture from my old professor so you can get familiarize with his work.